The Symantec Endpoint Protection Support Tool is a utility designed to quickly and efficiently diagnose common issues encountered with Endpoint Protection and the Endpoint Protection Manager. With this release, the utility is limited to diagnosing problems on the local computer (that is, the computer that is running the utility). If a problem is identified, the tool will direct you to a solution, or the information can be provided to Tech Support, who can guide you through the next steps.
I've found this tool quite handy, and will give a general overview of the utility here in this article.
First, you need to download the utility. It can be found here... http://service1.symantec.com/SUPPORT/ent-security....
The download is a single exe, so there is no installation required, just run the exe.
The first step is to accept the license agreement.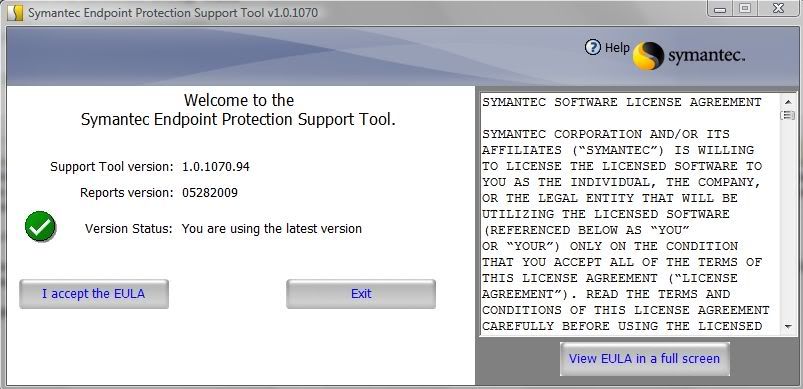 Next, we have some limited options to check out. As you can see, there are options for Pre-Installation checklists, Definitions and Content Signatures, as well as the Load Point Analysis. Load point is a utility that is used to understand some of the differences or changes a virus may make to your machine. Basically you would run load point on an un-infected machine, then again on an infected machine, and compare the images to understand what the virus is doing. That's the extent that we will cover on load point, kind of out of scope for this conversation.
For this example, we will keep just the default checkboxes enabled.
After selecting our criteria, we will click on the "next" button. You can now see the SEP support tool in the "Collecting Data" screen.
Once the tool has finished collecting data, a nice pretty little Report will pop up.
You will now want to "Review the Report". Here we can see the results of the report, and start to understand some of the checks associated with this utility. In this example, we can see that the tool has reported back that the SEP client version on this machine is not at the latest version.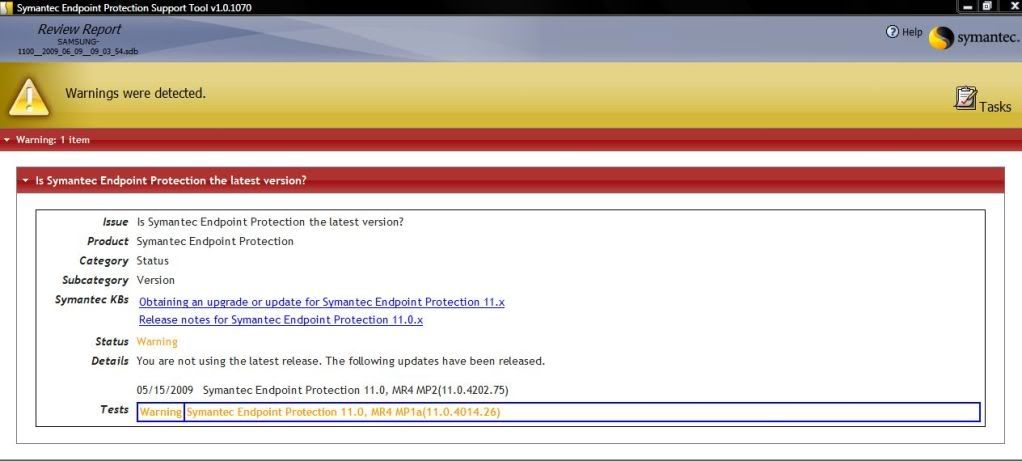 You can also see some of the other checks the utility goes through.
Once your done reviewing this data. Click the "Tasks" button to navigate back to the home screen of the utility. Here you can run additional reports, or "collect full data for support". The collecting of full data for support is a useful process for gathering log files for Symantec support. It really helps to automate the process.
I've been utilizing the tool more often now and it has become a great utility in my arsenal of troubleshooting SEP issues. Symantec seems to continually update the program as well, so it's nice to know it will have commitment from support. Hope this helps some of those that are having trouble with SEP issues!